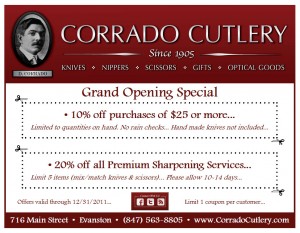 Well, we're making progress... the new store on Main Street in Evanston is a couple of weeks away from opening and is coming into shape. Paint is on the walls, carpeting is on the floor, and our beautiful wood cabinets are being built. Goods are being ordered and some are here already. It's amazing how many details go into a new store... Of course, I already knew this but think I forgot just how many there are. That's what makes it special, though... as they say "the Devil's in the details..."
When we open, we will have a couple of store-wide specials to help get us off the ground...


10% off all purchases of $25 or more... (limited to quantities on hand, no rain checks)


20% off of all Premium Sharpening Services (limit 5 items – mix/match knives & scissors)


Offers valid through 12/31/2011...
So, stay tuned for more updates and the announcement of our Grand Opening in the near future. We look forward to welcoming you to our new home...
All the best,
Jim
716 Main Street • Evanston, IL • (847) 563-8805 • CorradoCutlery.com
Labels: Other Stuff